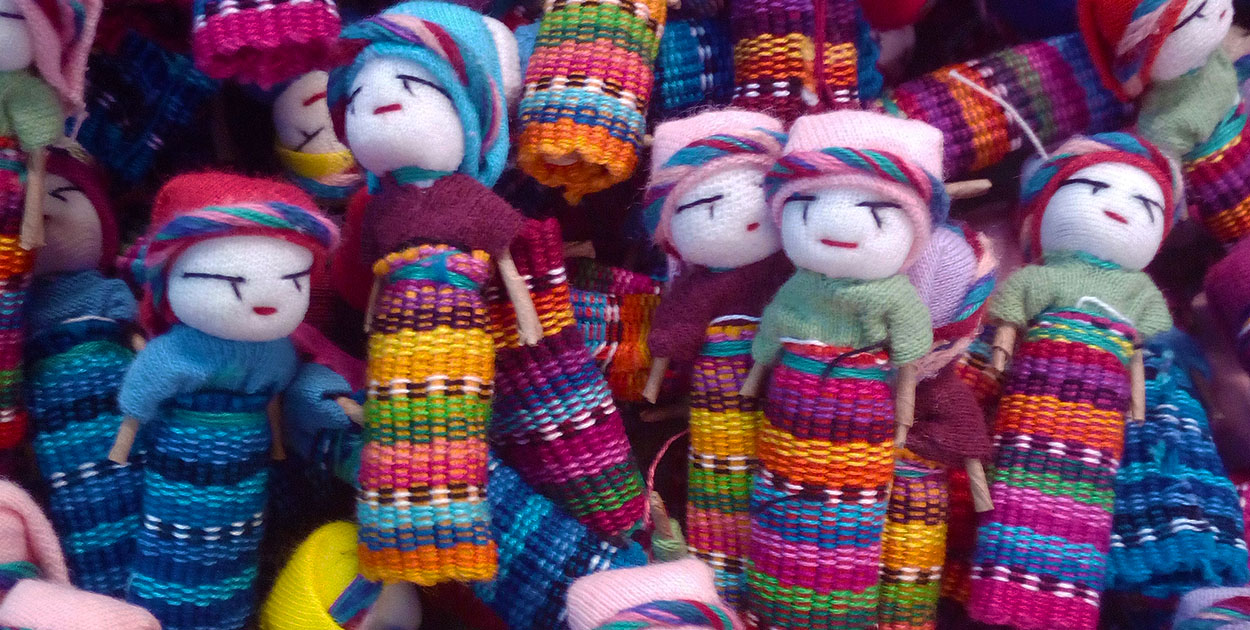 Guatemalan Worry Dolls
The Worry Dolls (Muñeca quitapena) original Guatemalan tradition comes from a local legend about a Mayan princess named Ixmucane. The princess received a special gift from the sun god which would allow her to solve any problem a human could worry about.
In traditional and modern times, the Guatemalan Worry Dolls usually come in a box of six different small dolls. Worry dolls are mostly hand-made. In Guatemala, they are made of wire, wool and colorful textile leftovers. The dolls are then dressed in traditional Mayan style. The size of the doll can vary between ½ inch and 2.0 inches
The dolls would traditionally be given to troubled or sorrowful children. Before going to sleep, they would tell their dolls about their fears and  worries, then hide it under their pillow during the night. After this, the child will literally sleep over the whole thing. During the night the dolls are said to absorb all of the worries that were stated. The next morning, all sorrows are said to have been taken away and they are to throw the doll, along with their worries, into the trash. Repeating this cycle until all six dolls are gone. When they throw away the last doll the person will be worry-free.
If a person wished to use the dolls another time, they must wash them to wash the worries away before using again.
At NimPot, we have a variety of Worry dolls and worry doll theme gifts and souvenirs for you and all your friends and family. All items are individually hand made in the Guatemalan village of San Juan Comalapa. Brows our store to find Worry Doll Magnets, Pin Cushions, Napkin Rings, Ornaments, Weavers, and of course a selection of different sized traditional Worry Dolls for placing under your pillow.
Buy our Worry Dolls online now!