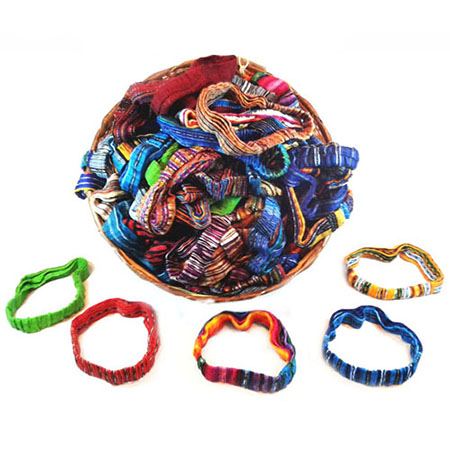 Accessories
At NimPot market we have a beautiful selection of handmade headbands and hair accessories. Each piece individual hand-woven by local artisans using the art of backstrap weaving.
Backstrap weaving is performed on a simple loom which has its roots in ancient civilizations. The loom consists of two sticks or bars between which the warps are stretched. One bar is attached to a fixed object, and the other to the weaver usually by means of a strap around the back. Backstrap weaving is practiced by many artisans in the highlands of Guatemala and has been indigenous to this region for generations.
According to Maya myth, backstrap weaving originated with Ixchel, the Maya Goddess taking numerous forms – Moon, Water, Weaving, and Childbirth. She is the deity of fertility and procreation, and represents female empowerment. Ixchel taught the first woman to weave, and since then the practice has been passed on from mother to daughter, generation after generation. At birth, baby girls are presented with the necessary tools for weaving. At the age of eight or nine, Maya girls are taught to weave for the first time, by their mothers, older sisters, and older women.
The colors and design in simple backstrap weaving are created through the thread attached to the loom. It often features a variety of colors–or mixing different color threads for effect. It is an ideal technique for busy indigenous artisans. The equipment needed is light and extremely portable and the apparatus can be set up almost anywhere. This is essential because most artisans are balancing many duties including raising children, maintaining the home, and earning a living through weaving.
We have a range of hard hairbands, soft hairbands, scrunchies, and headbands. All unique and handmade with vibrant Guatemalan colored cotton.  We also have a headband collection by El Cabezon.
Browse all of these fantastic accessories here!